US deports former Nazi camp guard, 95, to Germany
Comments
By Associated Press & Alice Tidey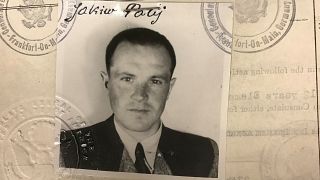 -
Copyright

US Department of Justice
The US deported a 95-year-old former Nazi concentration camp guard to Germany on Tuesday, 14 years after a judge ordered his expulsion, the White House has announced.
Jakiv Palij, who lived in Queens, New York City, was deported to Germany early on Tuesday, the White House confirmed in a statement.
"The United States will never be a safe haven for those who have participated in atrocities, war crimes, and human rights abuses," Attorney General Jeff Sessions said in the statement.
A former guard at the Trawniki camp in Nazi-occupied Poland — in which some 6,000 Jews were slaughtered during the so-called "Operation Harvest Festival" in November 1943 — Palij made his way to the US after WWII by claiming he was a farmer and a factory worker.
He was stripped of his US citizenship in 2003 after a Department of Justice investigation uncovered the truth and his expulsion was ordered a year later.
The judge ruled that people like Palij had been "an essential component in the machinery of annihilation" at the camp and that "by guarding the prisoners held under inhumane conditions at Trawniki, Jakiw Palij prevented their escape and directly contributed to their eventual slaughter at the hands of the Nazis."
However, he remained at his home because no country including Germany and Poland would accept him.
But protests against his continued presence were regularly organised in front of the house he shared with his wife in Queens, something Palij told the New York Post he was getting used to in a 2013 interview.
He also argued that he had been forced into becoming a camp guard.
"If you tried to run away, they take your family and shoot all of them," Palij said. "I am not SS. I have nothing to do with SS," he added.
Last year, 29 members of New York's Congressional delegation sent a letter to then-Secretary of State Rex Tillerson, urging him to intervene in the matter.
"Mr Palij continues to reside in New York where his presence is not only unmerited but a painful reminder for Americans who fought against the Nazis or lost loved ones in the Holocaust," they said in the letter.
It is unclear whether Palij will face charges.