Aretha Franklin was an icon for more than just music
Comments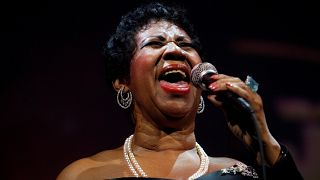 -
Aretha Franklin, the 'Queen of Soul', died on August 16th of pancreatic cancer. She was 76. Her career spanned six decades and saw her attain legendary status as a soul singer, a civil rights activist, and a feminist icon. She grew up surrounded by the giants of the civil rights movement like Al Sharpton and Jesse Jackson.
Reverend Jesse Jackson was with Franklin just before she died.
"When Dr. King was alive, several times she helped us make payroll," Jackson told the Detroit Free Press a few days ago.
"On one occasion, we took an 11-city tour with her as Aretha Franklin and Harry Belafonte … and they put gas in the vans. She did 11 concerts for free and hosted us at her home and did a fundraiser for my campaign. Aretha has always been a very socially conscious artist, an inspiration, not just an entertainer."
She sang at Martin Luther King Jr's funeral, and Barack Obama's inauguration. Her father organised the 1963 March to Freedom, in Detroit. And of course, her famous rendition of "Respect" was an anthem for both the feminist movement, and the civil rights movement.