Aretha Franklin dies at her home in Detroit aged 76
Comments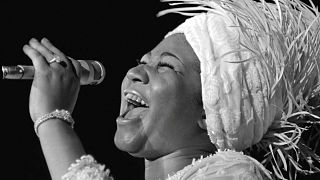 She passed away on Thursday morning at her home in Detroit "surrounded by family and loved ones", her family said in a statement via her longtime publicist, Gwendolyn Quinn.
Franklin was diagnosed with cancer in 2010 and her family confirmed Wednesday that the icon was "seriously ill".
Tributes have been pouring in for Franklin, who announced was retiring from music last year.
The legendary singer, the first woman inducted into the Rock and Roll Hall of Fame, was born in Memphis, Tennessee, but grew up in Detroit, Michigan.
She was married twice and had four sons, first giving birth when she was 12 years old.
Franklin had been in the music industry since the 1950s. She had a four-octave vocal range and was a self-taught pianist, who learned without knowing how to read music.
She won 18 Grammy Awards and had global success with songs like "Respect", "Spanish Harlem" and "Natural Woman".
The star was awarded the Presidential Medal of Freedom, America's highest civilian honour, by former President George W Bush in 2005.
The Queen of Soul has sung at the inaugurations of three American Presidents: Jimmy Carter, Bill Clinton and Barack Obama.
Clive Davis, chief creative officer of Sony Music Entertainment, said in a statement he was "absolutely devastated by Aretha's passing".
"She was more than the Queen of Soul," he wrote. "She was a national treasure to be cherished by every generation throughout the world."
Mayor of Detroit Mike Duggan also issued a statement saying: "We are all deeply saddened that Aretha has passed."
"Few people in the history of our city have been as universally loved or left as indelible a mark as Aretha," he added.