"Unite the Right 2" takes place in Washington DC with small group of white nationalists
Comments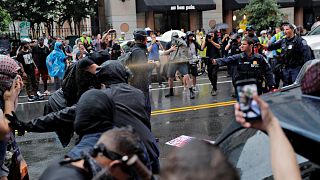 -
Copyright

REUTERS/Lucas Jackson
Last year, the white supremacists were out in force in Charlottesville, Virginia. This year, in Washington DC, they were a tiny group of about two dozen walking through a sea of counter protesters who shouted insults at them. A police escort kept them heavily protected as they marched from Foggy Bottom subway station to Lafayette Square, led by organizer Jason Kessler. That group started the march hours before it was advertised to start, leaving some aimless at Foggy Bottom hours later as they looked for the rest of the white nationalists to join.. The crowds chanted, "No hate, no fear, KKK is not welcome here," as they followed Kessler and his group, waving signs.
The police managed to keep both factions separate and only one arrest was made all day. Washington Police Chief Peter Newsham called police actions, "a well-executed plan to safeguard people and property while allowing citizens to express their First Amendment rights." When the skies opened up on DC, the right-wing protesters quickly dispersed, leaving somewhat aimless counter protesters behind in multiple locations around the city. A group of Antifa (anti-fascist) demonstrators were subsequently involved in a standoff with police as they blocked traffic close to the White House.
President Donald Trump also waded into the topic on Twitter- In the aftermath of the chaos in Charlottesville in August of 2017, he chose to condemn, "hate, bigotry and violence- on many sides." This year, he tweeted out, "Riots in Charlottesville a year ago resulted in senseless death and division. We must come together as a nation. I condemn all types of racism and acts of violence. Peace to ALL Americans!"
In Charlottesville itself, the downtown was under a state of emergency. Four arrests were made, but the day was largely peaceful. Susan Bro, the mother of Heather Heyer, killed in last year's clashes, laid flowers in the spot where her daughter was killed. She was supported by those who had come out to hold a vigil in remembrance.
"There's so much healing to do," she said. "We have a huge racial problem in our city and in our country. We have got to fix this, or we'll be right back here in no time."