Charlottesville declares state of emergency ahead of one-year anniversary of deadly protest clashes
Comments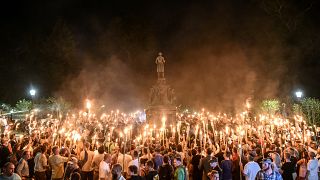 -
This year, Charlottesville Virginia is preparing for the worst, hoping for the best. Authorities have declared a state of emergency there in order to draw on increased resources ahead of this Sunday's one-year anniversary of the deadly "Unite the Right" rally.
Virginia Governor Ralph Northam asked residents to "make alternative plans to engaging with planned demonstrations of hate."
One woman was killed and dozens injured in August of 2017 when a group of white supremacists gathered to protest about the removal of a Confederate monument in the city- clashes erupted when counter-protesters and police got involved. Authorities admitted in the aftermath that they had been warned, but failed to adequately prepare and keep the peace in the streets. Police chief Alfred Thomas resigned after an independent report skewered the police's preparation, saying that they were ill-prepared, not properly trained and lacked an appropriate plan to handle the rally.
The images of people carrying torches and shouting racist slogans as they marched shocked the city, the country and the world. That shock was compounded when US President Donald Trump blamed violence "on many sides," refusing to park the blame solely with the organizers and supports of the "Unite the Right" rally.
Last year the protest was conducted legally as the permits were granted by the city of Charlottesville. This year, the same permits were denied to them. White supremacist and organiser of last year's protest, Jason Kessler, has vowed to mark the occasion again and has been granted a permit in Washington, D.C.
In Charlottesville, there will be a commemorative gathering and memorial for Heather Heyer, the woman killed when James Alex Fields Jr drove a car into the gathering of counterprotesters last year. And if anything does get unruly, authorities vow they're prepared. A strong police presence is guaranteed, a list of weapons have been forbidden in a secure zone downtown, as have masks or any other face covering.