Frankfurt airport evacuated after French family security scare
Comments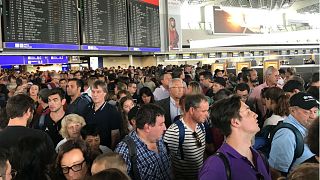 Parts of Frankfurt airport were evacuated for several hours on Tuesday, following a security scare involving a French family, federal police said.
In a tweet, police said the airport was evacuated because of a mistake by an air safety assistant.
"Despite a positive explosive test, a four-member French family was released into the security area. The family was found, questioned and allowed to travel further," it said.
Details of the incident came after police announced shortly after 2.30pm CEST that affected areas of the airport had been reopened.
"Thanks to all passengers and airport staff for their understanding and disciplined behaviour," they wrote.
The incident disrupted travel during the busy summer holiday season at Germany's biggest airport, where 1,500 flights were scheduled to take off and land on Tuesday, according to operator Fraport.
Germany's largest airline Lufthansa said around 7,000 of its passengers were affected by flight cancellations as a result of the incident, while some 2,000 hotel rooms were reserved for Tuesday night as a precautionary measure.
"Lufthansa is doing everything to minimise the unavoidable impact of the police measures on its passengers. Nevertheless, delays and individual cancellations may occur as a result of the operation and the affects will continue into the evening hours," it said in a statement.
The police action came a week and a half after a security scare involving a person who passed through an unmanned checkpoint at Munich airport, Germany's second-biggest after Frankfurt.
That triggered an alarm which caused the cancellation of 300 flights and affected more than 30,000 passengers.