'Chaos' at Gatwick as staff forced to display flight information on whiteboard
Comments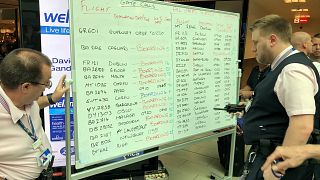 -
Copyright

TWITTER/ @EVDB /via REUTERS
Gatwick Airport descended into "chaos" on Monday morning after an IT malfunction forced staff to manually display flight information on whiteboards.
"We are sorry, but due to an IT issue our flight information is not displaying correctly," Britain's second-busiest airport announced in a Tweet at around 9 a.m local time (10 a.m. CET).
"Please use the temporary flight boards in the departure lounges or listen for airline flight announcements," it added.
In a later tweet, Gatwick said they expected Vodafone, its IT provider, to resolve the issue soon.
The malfunction appears to have lead to most flights departing late, according to FlightRadar24, a website that tracks flights' departures and arrivals.
'Utter chaos'
Passengers' reactions to the old-fashioned method of displaying flights was mixed, with some denouncing the "chaos."
"This tiny whiteboard is the only departures information in Gatwick Airport right now; every screen is offline. Utter chaos," Rob Fahey wrote on Twitter, alongside a picture of a crowd amassing around a small whiteboard.
"Appalling," Elizabeth Humphries wrote on Twitter, describing the issue as "#laughable."
Twitter user Raul Marcos appeared to see the funny side, however, posting a laughing face emoji on Twitter and explaining that the airport "have a guy listening to a walkie talkie, erasing and updating the table!"
Tamara Salem, also made light of the situation on Twitter, writing: "Generation Z: what are whiteboards?
Chris Labrey meanwhile refuted that it was chaotic, arguing that it was "rather civilised in fact".
"We're British remember," he wrote.