Pro-Brexit group fined and referred to police for spending violations
Comments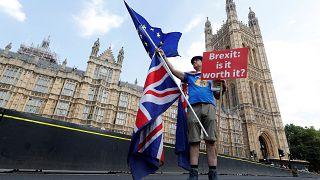 The UK's official pro-Brexit group Vote Leave has been referred to police for breaking spending laws during the 2016 referendum.
The news has added to calls from Brexit opponents for a re-run of the referendum, which ended in a 52-48 vote to leave the European Union.
The group was also fined close to €70,000 for funnelling money through a pro-Brexit youth group.
Vote Leave was only meant to spend £7 million, but Britain's Electoral Commission found significant evidence of the group working with another organization, BeLeave, which meant that it overspent by almost half a pounds.
In May, the Commission fined another pro-Brexit group Leave.EU almost €80,000 for spending violations.
Leave.EU was supported by former UKIP leader Nigel Farage but was not part of the official campaign.