Trump piled on Brexit pressure on May, says former PM's adviser
Comments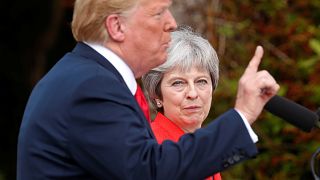 -
Donald Trump increased domestic pressure on Theresa May and "tore apart" the Brexit deal she was hoping for during his visit to the UK, a former adviser to the British Prime Minister said Friday.
In an interview published in British tabloid newspaper The Sun on Thursday as he was arriving for a two-day working visit to the UK, US President Donald Trump said May's plan for a so-called soft Brexit deal would "probably kill" a trade agreement between the UK and the US.
Tom Swarbrick, former adviser to Theresa May, told Euronews that Trump's comments were "the worst possible start to the trip."
"I think it just piles pressure on the Prime Minister domestically amongst those people who don't like the deal that she's proposed already.
"It gives them an extra line of argument to say: well we were onto this trade deal but the Prime Minister constrained our hands and therefore we need to change course."
What it means going forward
Still, according to Swarbrick, Trump's comments are unlikely to impact the relationship between the two countries.
The UK administration, he said, has a "remarkable ability to play the ball and not the man so they will talk about the ways in which the (Brexit) deal the Prime Minister is proposing could allow for a free trade arrangement with the US."
"Even though he has torn apart the Brexit deal the Prime Minister is hoping to deliver, the relationship between the two of them, whilst strange, clearly isn't broken given the conservations they've had" over the visit, Swarbrick added.
The two leaders also get on "surprisingly well for people who are almost totally opposite," Swarbrick said.
"He does listen to her, he does have, I think, a genuine respect for the UK and for the office that she holds."
Trump and his wife Melania were welcomed by May and her husband Philip at Blenheim Palace — the birthplace of Winston Churchill — on Thusrday for a banquet with 150 guests.
They reconvened for a lunch meeting on Friday, which was followed by a joint press conference. The American First Couple were then due to travel to Windsor for a meeting with the Queen before flying to Scotland where they plan to spend the weekend.