Watch: Thai cave "The hardest thing for those inside is dealing with uncertainty"
Comments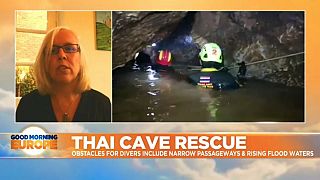 The divers working on freeing the remaining four boys and their coach stuck in a cave in Thailand have been overcoming almost insurmountable obstacles in the cave network.
There was, however, cause for was celebration and relief yesterday as the first eight were safely brought out. They're being treated in a local hospital in Chiang Rai, but there is still work to be done to rescue those still inside.
Joining Tesa Arcilla live from Durham, England to talk more about the pressures facing those still stuck inside the cave is Earth Sciences expert, Dr Lisa Baldini.