Eighth boy 'rescued' from flooded Thai cave system
Comments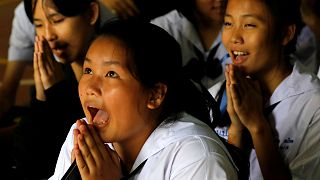 An eighth boy has been rescued from a flooded cave system in Thailand, according to Reuters, on the second day of a daring rescue operation which has been suspended until further notice.
It is thought the rescue for the remaining four boys and their football coach will resume on Tuesday, weeks after they became trapped on June 23 following heavy rains.
The first child to be saved on Monday was removed from the cave in a stretcher and taken to hospital where the others are being treated.
Four other boys were rescued on Sunday.
Foreign divers and members of Thailand's elite navy SEAL unit guided the boys to safety through narrow, submerged passageways that claimed the life of a former Thai navy diver on Friday.
Bursts of heavy monsoon rain soaked the Tham Luang Cave area in northern Chiang Rai province on Sunday and storms were expected in coming weeks, increasing the risks in what has been called a "war with water and time" to save the team.
The boys, aged between 11 and 16, went missing with their 25-year-old coach after soccer practice on June 23, setting out on an adventure to explore the cave complex near the border with Myanmar and celebrate a boy's birthday.