Polar bear carcasses, big cats recovered in global wildlife operation
Comments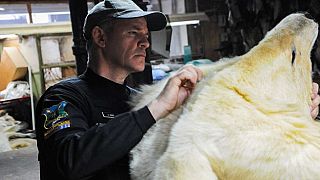 The carcasses of two polar bears and 14 live big cats including tigers and lions were recovered by authorities in a global operation targeting wildlife traffickers, Interpol revealed on Wednesday.
The month-long operation codenamed "Thunderstorm", which included authorities from more than 90 countries, took place in May and resulted in 1,974 seizures and the identification of some 1,400 suspects.
The carcasses of seven bears, two of which polar bears, as well as 14 live big cats including tigers, lions, leopards and jaguars, were among the seizures.
Polar bears and tigers are both listed as endangered species.
The operation also recovered 27,000 reptiles — including 869 alligators/crocodiles and 10,000 snakes — almost 4,000 birds and 48 live primates.
Forty-three tonnes of wild meat from bear, elephant, and whale as well as 1.3 tonnes of raw and processed elephant ivory were also secured.
Agencies — including police, border, customs, wildlife and forestry — from 93 countries took part in the operation that has triggered arrests and investigations worldwide.
Twelve months in the making, the operation relied on the "knowledge of frontline officers in all those countries," Tim Morris, executive director of police services at Interpol told Euronews.
The information was then collected and analysed across a global network in order to identify the top targets.
"It's that homework that led to the outstanding result."
"The windfall is that there will now be investigations conducted around the globe which create opportunities for law enforcement to act decisively and give policy-makers vision on what's happening on the ground," Morris said.
Jürgen Stock, Interpol's Secretary General said in a statement that "by revealing how wildlife trafficking groups use the same routes as criminals involved in other crime areas — often hand in hand with tax evasion, corruption, money laundering and violent crime – Operation Thunderstorm sends a clear message to wildlife criminals that the world's law enforcement community is homing in on them."
Morris encouraged anyone suspicious of wildlife trafficking activities to report it to local police.
"We're getting better and better globally at arranging the intelligence feed so the smallest tip can lead to the biggest seizures," he said.