Wildlife populations drop 60% in 40 years due to human action: report
Comments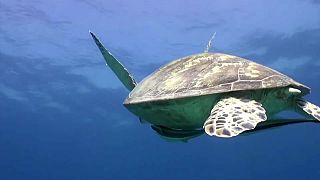 Global wildlife populations have fallen by 60% since 1970 as human activity pushes "our planet to the brink," the WWF warned on Tuesday.
According to the WWF latest Living Planet report, populations of mammals, birds, fish, reptiles and amphibians have, on average, declined by 60% between 1970 and 2014, the most recent year with available data.
The conservation NGO estimates that current rate of species extinction are now up to 1,000 times higher than the standard rate of extinction in Earth's history.
The Zoological Society of London which conducted the scientific survey based on 16,704 populations of more than 4,000 species, found that declines are especially pronounced in the tropics, with South and Central America suffering a dramatic 89% drop since 1970.
Freshwater species numbers have also been severely impacted in the past four decades with an 83% decline.
Meanwhile, shallow water corals have been halved in the past 30 years and a fifth of the Amazon has disappeared in just 50 years.
Human activity is at the core of this wildlife crisis according to the WWF with overconsumption resulting in a loss or degradation of wildlife habitat which exacerbates climate change.
The report highlights for instance that only a quarter of land on Earth is currently substantively free of the impacts of human activity, warning that it is projected to plummet to just one-tenth in 2050.
"In the next years, we need to urgently transition to a net carbon-neutral society and halt and reverse nature loss — through green finance and shifting to clean energy and environmentally friendly food production," Marco Lambertini, director general of WWF International, said in the report.
"In addition, we must preserve and restore enough land and ocean in a natural state to sustain all life," he also said.
The organisation calls for world leaders to reach "the most ambitious international agreement yet" to curb biodiversity loss, emphasising that the world faces a "rapidly closing window for action an an unparalleled opportunity as we head into the year 2020."
"This is when the world will review its progress on sustainable development by means of the Sustainable Development Goals, the Paris Agreement and the Convention on Biological Diversity.
"And this is when the world should embrace a new global deal for nature and people, as we did in Paris, and truly demonstrate the path we are choosing for people and the planet," Lambertini urged.