Guatemala: Baby girl found alive
Comments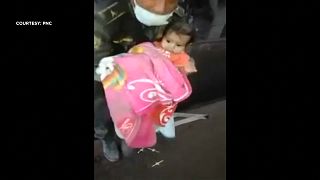 Rescue workers continue to look for people as the Guatemala volcano shows signs of continuing. The death toll has risen to 75 with nearly 200 people still missing. Monday's attempts were hampered with another eruption.
Ivan Mazariegos, rescue worker of Conred, Guatemala's disaster agencysays, "Underneath, at about 20 centimetres, it is still at 300 degrees. This is dangerous for you. Colleagues of yours have already left half of their shoes behind yesterday."
As rescue workers dig inside destroyed buildings in high temperatures and layers of ash, they find charred bodies buried. But remarkably, a baby girl is rescued.
The National Civil Police officers discovered the child inside a house affected by the Volcan de Fuego. The girl and her family were successfully saved and she was taken to the National Hospital.
President Jimmy Morales declares three days of mourning after seeing the disaster area.