Israel's Netta basks in Eurovision glory after taking first prize in Lisbon
Comments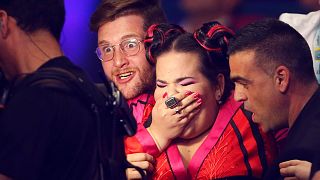 Israel's Netta has won the 63rd Eurovision Song Contest grand final tonight in Lisbon.
ICYMI : Here are our top highlights from the Eurovision Song Contest 2018 Final
1. The night's grand winner:
IsraelThe contest's winner Netta was one of this year's favourites before the final even began. Her song 'Toy' is said to be about female empowerment. Strong messages apart, what really caught audiences' attention was the unusual squawking between the verses and the tune became known on social media as the 'chicken song'.
2. 'Cyprus's Shakira'
A mixture between Shakira, Ciara and Beyoncé: this is how many viewers described the singer representing Cyprus, Eleni Foureira, with her fiery performance of Fuego. This year's runner-up showed some serious hair flipping moves on stage.
3. Dance off
Speaking of dancing, the great moves from Sweden and Czech Republic entrants were definite highlights and the source of endless memes. The 'Swedish Justin Bieber' Benjamin Ingrosso went for an 80's vibe choreography, channeling George Michael, while Czech Mikolas Josef's wild stunts resulted in an injured back during rehearsals. Luckily, though, he was back on his feet for tonight's performance.
4. Shocking stage invasion during the UK's performance
The UK's performance was abruptly interrupted when a man stormed the stage, pulling the microphone from SuRie's hands. He appeared to say "Nazis of the UK media, we demand freedom" and was taken under police custody moments after the incident. SuRie bravely continued to sing and turned down an offer to perform a second time. According to an official statement, Surie and her team "were extremely proud of her performance and have decided that there is absolutely no reason to perform the song again".
5. Salvador Sobral's guest appearance
Last year's winner and Portuguese sweetheart, Salvador Sobral, took to the stage six months after a heart transplant. He performed with Brazilian bossa nova icon Caetano Veloso, who traveled all the way to Lisbon just for the occasion.
What does the Eurovison winner get?
Participants representing 26 countries have competed to take home a microphone glass trophy, while the winning country will also have to host next year's Eurovision.
Who decides the winner?
The final scoring is partly based on an expert jury and partly on voters from all 43 countries that initially entered the contest. The 43 acts were whittled down to 26 in the semi-finals earlier in the week. Voting opens after all acts have performed.
Who were tonight's big favourites - and least favourites?
Cyprus, Israel, Ireland, France and Sweden were tonight's big favourites according to bookmakers, while Serbia, Slovenia, Albania, Portugal and the United Kingdom saw the odds stacked against them.
Below, our rolling coverage with live reactions from this evening's event:
The running order of the final's performances was as follows:
1. Ukraine: Under The Ladder, MELOVIN
2. Spain: Tu canción, Amaia Romero and Alfred García
3. Slovenia: Hvala, ne, Lea Sirk
4. Lithuania: When We're Old, Ieva Zasimauskaitė
5. Austria: Nobody But You, Cesár Sampson
Estonia: La Forza, Elina Nechayeva
7. Norway: That's How You Write A Song, Alexander Rybak
8. Portugal: O jardim, Cláudia Pascoal
9. United Kingdom: Storm, SuRie
10. Serbia: Nova Deca, Sanja Ilić Balkanika
11. Germany: You Let Me Walk Alone, Michael Schulte
12. Albania: Mall, Eugent Bushpepa
France: Mercy, Madame Monsieur
14. Czech Republic: Lie To Me, Mikolas Josef
15. Denmark: Higher Ground, Rasmussen
16. Australia: We Got Love, Jessica Mauboy
17. Finland: Monsters, Saara Aalto
18. Bulgaria: Bones, EQUINOX
19. Moldova: My Lucky Day, DoReDos
20. Sweden: Dance You Off, Benjamin Ingrosso
21. Hungary: Viszlát Nyár, AWS
22. Israel: TOY, Netta
23. Netherlands: Outlaw In 'Em, Waylon
24. Ireland: Together, Ryan O'Shaughnessy
25. Cyprus: Fuego, Eleni Foureira
26. Italy: Non mi avete fatto niente, Erma Meta and Fabrizio Moro