Pakistan's interior minister shot in the arm
Comments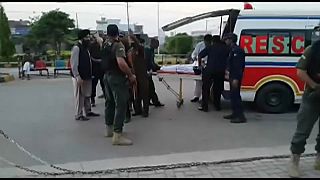 Pakistan's interior minister Ahsan Iqbal has been shot in what appears to have been an assassination attempt.
He was campaigning in Narowal district, his constituency in central Punjab province, when he was shot in the arm by a man who was then arrested.
The attack is likely to raise political tensions as the general elections approach in late July.
The motivation for the attack has not yet been established.
Militant attacks have fallen sharply over the past few years, but Islamist militants continue to pose a threat and carry out assassinations.
And In the past politically motivated attacks have also been a feature of political life.