Three dead and 20 injured as van driven into crowd in Muenster, Germany
Comments
By Jen Hauser and Alasdair Sandford with Reuters, DPA, others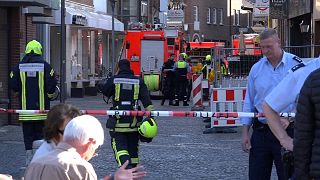 Three people are dead and 20 injured after a man drove a van into a crowd outside a popular restaurant in Muenster, western Germany before committing suicide, said authorities. It happened in a pedestrian area of the historic city as many people were out enjoying the warm spring sunshine on Saturday afternoon.
Of those injured, six people remain in a critical condition.
Earlier, the Interior Ministry said four people had died, but officials have since revised the total number of dead down to three.
In a joint statement, Muenster police and the state prosecutor's office identified the victims as a 51-year-old woman and a 65-year-old man.
They also confirmed the suspect shot himself dead at the scene. State prosecutor Martin Botzenhardt said the investigation led authorities to believe the perpetrator was a "48-year-old man from Muenster" adding that there were no leads yet as to the motive but that authorities were looking at "all possible angles."
Earlier, the interior ministry in North-Rhine Westphalia Herbert Reul said there was "no indication" of links to radical Islam.
Several German news outlets have reported that the suspect had mental health issues and was unlikely to have had an extremist motive. 
Authorities found a toy machine gun and firecrackers inside the suspect's house. 
Reuters quoted German police saying they were not looking for further suspects in the incident. However, police spokesman Andreas Bode said earlier that investigators were looking at the possibility that other suspects fled the scene, although they had no evidence.
Police cordoned off large parts of the city centre and evacuated a number of buildings as they searched the van.
The attack happened near the Kiepenkerl statue in a pedestrian area of the old town on Saturday afternoon at 15:27. Police asked residents to avoid the area so as not to impede emergency services.
Chancellor Angela Merkel and German president Frank-Walter Steinmeier expressed their condolences to the victims and their families. 
What we know:
A van has been driven into a crowd in the western German city of Muenster

German officials have revised the number of dead down to three, including the perpetrator. Earlier, the Interior Ministry Herbert Reul later said four people had died

The incident happened around the Kiepenkerl statue in Muenster's old town

Latest reports quoted by news agencies say around 20 people were injured

The driver of the vehicle killed himself at the scene, police said

Large parts of the city centre have been closed off

The motive remains unclear, police are investigating

Reul said there was "no indication" of ties to radical Islam.
Muenster is a city of 300,000 people north of Dortmund in western Germany. It is one of the most important university cities in Germany with more than 50,000 students.