Police continue investigation while tributes pour in for Muenster victims
Comments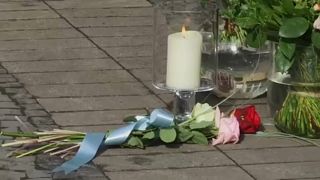 Tributes poured in on Sunday for the victims of the car attack that killed two people in the German city of Muenster on Saturday as police continue to investigate the incident.
The suspect killed two people at the Grosser Kiepenkerl restaurant in the old town of the city in the northwestern region of North Rhine-Westphalia. He then took his own life with a gun.
No clear motive has officially been given by the authorities for the attack, though the Frankfurter Allgemeine Zeitung reported in its online edition that the suspect was Jens R., 48, who resided some 2 km (1.2 miles) from the crime scene. Broadcaster ZDF said police were searching his apartment and that he had contact with far-right extremists, but there was no evidence thus far that he was a far-right extremist himself.
Government officials and locals gathered to pay their respects to the victims at the site of the incident and Germany's interior minister said at the scene:
"Once again we experienced that despite all our efforts as a national community, despite doing and having to do all that is humanly possible to protect our citizens, unfortunately complete security is not possible."
While Herbert Reul, the Interior Minister of North Rhine-Westphalia, told reporters: "We know now that in all likelihood he acted alone. He was a German, not a refugee. We know that in all likelihood there is no islamistic background."