Trebes mourns day that changed the little town forever
Comments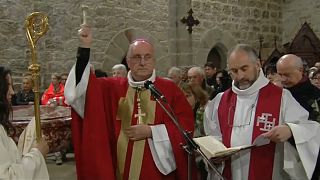 The little church in Trebes, southern France, was packed this Sunday after the traumatic events of the end of the week brought the community out to come together, give thanks, and offer prayers.
The congregation honoured the fallen gendarme, Colonel Arnaud Beltrame who gave his life so others might go free, and the other victims of the terrorist attack.
"A life given cannot be lost. It transcends hardship so as to unite us together. It calls to us to believe that life is stronger than death, in hope, of which our fraternity will be the sign," said the Bishop of Carcassonne and Narbonne, Alain Planet.
This small community is traumatized by what happened, stunned that the terrorist violence of the modern world has erupted into their lives. If it can happen here, people say, it can happen anywhere.
"It's dramatic, we're having trouble recovering. We're thinking any of us could have been in this shop," said one woman.
"We all know each other here, near or far, I don't think you'll find anyone who feels detached from what has happened," said another, in tears.
Members of the region's Muslim community were among those mourning at the special Palm Sunday service, with the manager of the supermarket in the front row beside her husband, the town mayor.
Attacker Redouane Lakdim was killed by police after Beltrame helped them storm the supermarket.