Italian nonagenarian captures hearts with charity mission to Kenya
Comments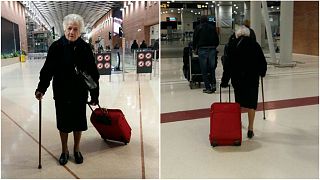 Copyright

Facebook/Elisa Coltro
Charity missions to Africa are anything but a walk in the park and normally the territory of gap-year students or early retirees looking for a fresh challenge.
But try telling that to a 93-year-old grandmother from Italy who has left for a three-week aid mission to Kenya with her daughter.
Irma, from Noventa Vicentina in north-east Italy, will spend her time helping children at an orphanage.
A photo of the nonagenarian walking to catch her flight went viral on Facebook, quickly racking up tens of thousands of likes.
It was posted by Irma's granddaughter, Elisa Coltro. "My grandmother has always loved life and has never stopped at anything, she has dedicated her life to the family and to helping those around her, she told La Repubblica newspaper. "For me it has always been an example."
Elisa has already followed in the footsteps of her grandmother, helping Syrian refugees in Greece over the last two years.
On Facebook she wrote, "This is my grandmother Irma ❤️, a 93-year-old youngster, who left tonight for Kenya. Not a tourist village, but to go to a village orphanage. I show you why I believe that we should always keep a little consciousness to live and not just survive. Look at her .. who stops her? I love her."