Actress Cate Blanchett named Cannes Film Festival jury president
Comments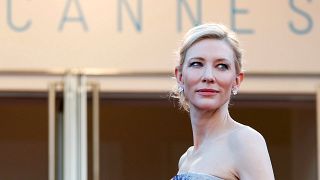 -
Copyright

Regis Duvignau Reuters file
LOS ANGELES — Cate Blanchett has been named president of the Cannes Film Festival jury, the festival announced Thursday. Blanchett will be the 12th woman to lead the jury of the prestigious festival.
The Australian actress will preside over the competition for the 71st festival, which takes place May 8 to May 19. Unlike in years past, this year the festival begins on a Tuesday and ends on a Saturday.
"I have been to Cannes in many guises over the years; as an actress, producer, in the marketplace, the Gala-sphere and in Competition," she said in a statement, "but never solely for the sheer pleasure of watching the cornucopia of films this great festival harbors."
Blanchett was among the women who recently launched the Time's Up initiative against sexual harassment. She was one of the first women to speak out against Harvey Weinstein after he was accused of sexual assault by numerous women.
Related: Hollywood women form Time's Up, a coalition to fight sexual misconduct
Last year's president was Pedro Almodovar, whose jury gave the Palme d'Or to Ruben Ostlund's "The Square."
"I am humbled by the privilege and responsibility of presiding over this year's jury," she continued. "This festival plays a pivotal role in bringing the world together to celebrate story; that strange and vital endeavour that all peoples share, understand and crave."
Pierre Lescure, Festival de Cannes President and Thierry Fremaux, General Delegate, said: "We are delighted to welcome such a rare and unique artist whose talent and convictions enrich both screen and stage. Our conversations from this autumn tell us she will be a committed President, a passionate woman and a big-hearted spectator."
Related: Sexual misconduct: A growing list
Blanchett won the 2014 best actress Oscar for "Blue Jasmine" as well as the supporting actress Oscar for "The Aviator."