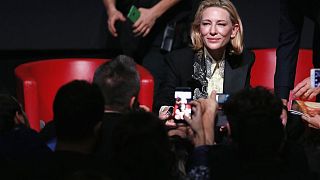 Cate Blanchett was in Rome for the 13th edition of the Film Festival and presented the Italian premiere of the 'House with a Clock in Its Walls'.
The story is about a young orphan who accidentally releases an evil force which threatens the end of the world.
She also took part in the 'Close Encounter' discussion about her work and the film.
Cate Blanchett, actress says, "The whole process of acting for me as an empathetic one, where you try and understand someone else's reality. But yes, I think the film very much talks about three people who are in various ways orphaned or marooned and they have to come together as a family, as a sort of a broken family in order to find their collective power to solve the problem at hand".
The 49-year-old is a refined and intense actress of contemporary film and the Australian is a two-time Oscar winner. She's also been nominated seven times for an Oscar since 1999.