China ivory ban comes into effect
Comments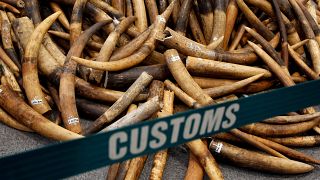 -
Wildlife campaigners are applauding China's total ban on the commercial sale of ivory.
The ban came into effect on New Year's Eve.
China has long been a major market for ivory but has been gradually restricting its sale and import over recent years.
The country had already banned sales of ivory acquired after 1975. But critics say partial bans can help drive up demand and encourage illegal trading.
According to Chinese state media, the price of raw ivory has declined by 65% over the past year. Seizures of ivory entering China have declined by 80%.
One concern is that Hong Kong is not covered by the new law. However, the territory is planning to introduce its own ban.
Poaching claims some 30,000 elephants each year. But the situation is improving.
In Kenya, for example, 390 elephants were killed in 2013 - by 2017 that number fell to 46.
Former basketball star Yao Ming and other Chinese celebrities joined the Ivory Free campaign to push for a total ban.