Ukraine crisis: prisoner exchange begins
Comments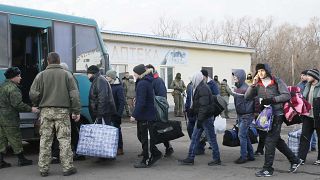 Ukraine and pro-Russian separatist rebels have conducted the largest exchange of prisoners since conflict broke out in 2014, sending hundreds of captives home to their families on Wednesday (Dec. 28) ahead of New Year and Orthodox Christmas.
According to the terms of the deal, Kiev was meant to hand over 306 prisoners to the rebels and receive 74 prisoners in return.
Russian President Vladimir Putin and his Ukrainian counterpart Petro Poroshenko were involved in negotiations, and Russian Orthodox Patriarch Kirill helped mediate the process.
"I hope that the process that has begun will continue and will guarantee the establishment of a just and long-lasting peace," Kirill said.
The exchange was overseen by the Organization for Security and Cooperation in Europe (OSCE).
Poroshenko praised the Ukrainian prisoners for their endurance: "Thank you for your perseverance, guys," Poroshenko posted on Facebook.
Not all prisoners held by Ukraine have chosen to return to separatist controlled areas, and two Ukrainians reportedly chose to stay in the breakaway region of Donetsk.
Prisoner release and exchange was one of the points in the 2015 Minsk 2 peace accord but this was the first swap in 15 months.
As well as combatants, the prisoners included activists and bloggers who were charged with spying or treason.
Noted Ukrainian historian Igor Kozlovskiy was among those released in the exchange. Kozlovskiy was captured by separatist rebels on suspicion of storing weapons. "I was in captivity for two years," Kozlovskiy told AFP. "Still a lot of prisoners remain [in Donetsk]," he said.
Daria Morozova, Human Rights Ombudsman for the self-declared Donetsk People's Republic, said there were also still rebel fighters being held in Ukraine.
"Sixty more people are still there (in Kiev), who were not included into the first list and we have moved them to the second stage of exchange. We haven't forgotten about these people and I am sure we will come back to the discussion of the second stage of the exchange after the New Year."
German Chancellor Angela Merkel and French President Emmanuel Macron welcomed the prisoner exchange in a joint statement and called on both sides to release all remaining captives.
The German Foreign Ministry said the exchange was a step toward implementing the the Minsk ceasefire agreement. "It is also an important humanitarian gesture before the New Year and Orthodox Christmas," the ministry said in a statement.
The conflict in Eastern Ukraine started in April 2014 after Russia annexed Ukraine's Crimean Peninsula.
More than 10,000 people have been killed in fighting in the Donetsk and Luhansk regions.