Russia and Ukraine in tit-for-tat detentions over Crimea
Comments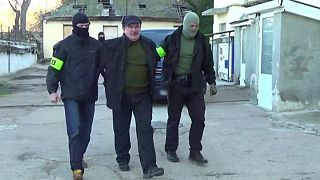 Russia and Ukraine have carried out a series of detentions in recent days over the disputed Crimean peninsula.
On Thursday Russia's Federal Security Service said it had held a former Russian navy official in Sevastopol.
Leonid Parkhomenko was detained on Tuesday and is said by Moscow to have collected information on Russia's Black Sea fleet for Ukraine. He has charged with treason.
Last week the FSB said two other men identified as Ukrainian military personnel had been arrested in Crimea, suspected of trying to undermine Russian control.
Russia annexed Crimea in 2014 but it is recognised by the UN as Ukrainian.
Last weekend it was Ukraine's turn to take action. It detained two Russian soldiers saying the men were deserters from the Ukrainian army.
Moscow has named the pair as Maxim Odintsov and Alexander Baranov, and demanded their swift return to Russia. It claims they were seized in Crimea.
Kyiv says they were held at a checkpoint on Ukrainian-controlled territory. Ukraine's Security Service released a video it says shows them being held.
On Tuesday Russia's Foreign Minister Sergei Lavrov described the detention as "a provocation".
Moscow and Kyiv have been locked in conflict since the annexation of Crimea and the pro-Russian insurgency in eastern Ukraine.
Last week the UN General Assembly's human rights committee approved a draft resolution accusing Russia of multiple abuses in Crimea and condemning its "temporary occupation" of the territory. Moscow called it biased and unrepresentative of real events in the region.