Children's education suffers in conflict-torn eastern Ukraine
Comments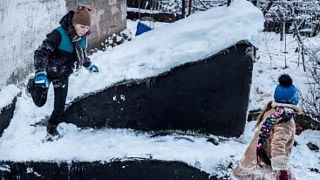 Copyright

© UNICEF/ Gilbertson VII Photo

-
Children's education is suffering under the ongoing conflict in eastern Ukraine, where schools are frequently damaged, the sound of shelling rings through playgrounds and students struggle with the psychological impacts of the fighting.
The conflict in eastern Ukraine has been raging since 2014, when fighting broke out between the Ukrainian military and Russian-backed separatist rebels.
Since then, more than 10,000 people have been killed there and 1.5 million displaced.
In a damning statement released by the United Nations children's agency today, eastern Ukraine was cited in a list of places where children have been worst affected by conflicts this year.
Children in the government-held town of Avdiivka are on the frontline of that danger.
Thirteen-year-old Anya and her family fled Avdiika in 2014 for their own safety, after witnessing several heavy shootings.
They spent six months in the town of Sviatogorsk, living in a former summer camp where, despite being far away from their home and friends, Anya said the family "felt good."
"Later my Mum read on the internet that the situation with the shooting in Avdiivka had improved and we decided to return home. Me and my little sisters Rita and Tania were very happy to go back home," she wrote in a recent letter.
Since returning to her hometown, Anya has been studying at School #4. But while she says she likes it there "very much", it is not always possible to access a full-time education.
Schools in Avdiika have been shuttered for weeks at a time since the war erupted in 2014, during periods when it has been deemed too dangerous for students and teachers to attend.
Economic depression and a lack of access to basic supplies as a result of shelling has further impacted children's education there.
Since late November, School #4 has been forced to dramatically cut its hours because many of its classrooms are relying solely on electric heaters to keep students and staff warm.
Staff found it was too expensive to keep classrooms heated and too cold to keep children there without heating during the bitter winter period.
"I got very upset after they told us that we would be studying remotely, there would be no school on Tuesdays and we would be coming to school every other day and each class would last 20 minutes only," Anya wrote.
"My spirits are down, as I realise that spending just 20 minutes at school will not allow me to gain any knowledge, but will only worsen it."
Melanie Sharpe, a communication specialist at Unicef who recently visited eastern Ukraine, said every aspect of the education system there has been affected by the ongoing conflict.
"When education is interrupted due to conflict the devastating impact on children, families and entire communities cannot be overstated," she told Euronews.
"Children are being taught in classrooms with bullet holes and sandbags in the windows. I was in a school recently in Avdiivka where you could hear active shelling in the school yard during the middle of the afternoon," she added.
Olga Prais, a teacher at School #4, said the effects of the conflict on children studying there had been devastating.
"Children from my city can distinguish between the sounds of explosions of different caliber shells. They know far too much about weapons."
Prais, a grade 8 homeroom teacher, has been working at School #4 for 20 years, remaining there even during the heaviest bouts of fighting.
Among her students is a girl who almost died while doing homework when a mine exploded near her house, and a boy who was hit in the leg by a sniper.
Prais recalled that during one of the worst periods of fighting in winter 2015, "children would apologise for not being prepared for class because they spent the entire night in the basement to shelter from the shelling."
A Unicef report found that more than three quarters of school directors and teachers interviewed in areas where fighting is most severe in eastern Ukraine had noticed "striking behavioural changes" in students before and after the conflict.
This is an issue acknowledged by Prais, who says the "constant risks of living in the war zone are psychologically hard to bear."
"I always teach my students to love their country and respect their people. However, I hope that soon this insidious and treacherous war will be over," she said.
With no sign of the violence abating, war has become the norm for children like Anya, for whom a life free from danger is now a distant memory.
"These days the shooting has become quieter, but I am not afraid of anything now," she said.
Letters from Anya and Olga Prais were provided to Euronews by Unicef. You can read them in full in our View section here.