George Saunders wins Man Booker Prize for Lincoln in the Bardo
Comments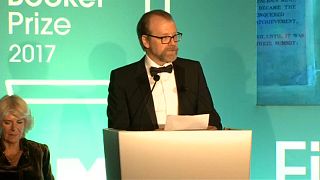 US author George Saunders has became only the second American writer to win Britain's renowned Man Booker Prize for his first full-length novel, "Lincoln in the Bardo".
Judges for the world's most prestigious English-language literary award praised the book that chronicles the death of Abraham Lincoln's 11-year-old son Willie using the accounts of hundreds of narrators as "utterly original".
He described the award as a "great honour which I hope to live up to with the rest of my work, for the rest of my life."
In a brief, politically-tinged acceptance speech, he made several thinly-veiled references to the controversial policies of US President Donald Trump.
"As you might have noticed, we live in a strange time.
I have noticed it. So the question at the heart of the matter I think is pretty simple: do we respond to fear with exclusion and negative projection and violence?
Or do we take that ancient great leap of faith and do our best to respond with love? And with faith in the idea that what seems other is actually not other at all, but just us on a different day"
He later told reporters he was in disbelief and numb at the award.
The Man Booker Prize, launched in 1969, was only open to novelists from Commonwealth states until it began permitting those from other English-speaking countries in 2014.