German border town issues iodine tablets over fears about Belgian nuclear reactor
Comments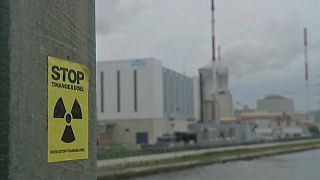 There have been concerns for years about Belgium's ageing Tihangel nuclear power station, parts of which are more than 40 years old, and whose oldest block was supposed to have been decommissioned two years ago.
Those concerns are especially acute just over the border in Germany, where authorities in Aachen and its surrounding area have begun distributing iodine tablets.
"Our job as the catastrophe agency is to not cause panic unnecessarily. There is no room for this. On the other hand we don't want to trivialize anything but to act responsible towards it. And that is what we are doing by preparing for an incident," said Catastrophe commissioner Markus Kremer.
Aachen, or Aix-la-Chapelle, is the former seat of Charlemagne and only 70 kilometres away, and the Netherlands and France are just as close.
"It's is good that there is an initiative but still it does not really calm me down," said one young woman.
"When the city is handing the tablets out then actually something has gone wrong already," said a more sceptical young man.
The tablets, which will be handed out until November 15, are meant to prevent thyroid cancer in the case of radioactive fallout. People under 46 can apply online for a coupon that will allow them free tablets from pharmacies.
Germany plans to switch off all its nuclear reactors by 2022 and has already shut its oldest plants.