Swiss suspend search for missing hikers amid fresh landslide fears
Comments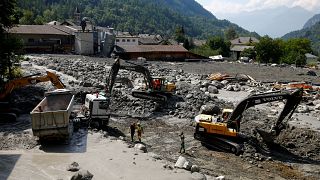 Authorities in Switzerland say they're expecting more landslides in the remote valley near the Italian border where eight people disappeared in a massive rock fall this week.
There is growing evidence the hikers had been in the valley at the time of the landslide but rescuers have now suspended a search for the group from Germany, Austria and Switzerland after a second landslide
sent a wall of mud through the village of Bondo.
The tiny settlement was already partially destroyed after the side of a mountain collapsed on Wednesday, dumping rock, rubble and mud metres high.
Experts say melting permafrost due to high temperatures is probably only a minor factor behind the disaster, with a larger role played by longer-term changes in the structure, water content and pressure atop Piz Cengalo mountain.
Vue satellite du #glissement de terrain au canton des #Grisons dans #bondo, et + net sur Piz #Cengalo#boue#Alpes#Suisse#sentinel2pic.twitter.com/ro6gVdqQDz

— Meteos (@Meteos_) August 26, 2017