Dry winds and hot weather stoke 90 fires in Greece
Comments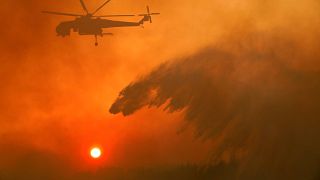 Firefighters battled more than 90 forest fires across Greece on Monday, an outbreak fed by dry winds and hot weather that saw blazes burning near Athens, in the Peloponnese, and on the Ionian islands of Zakynthos and Kefalonia.
The fire near Athens was burning unchecked for a second day, damaging dozens of homes. It had started in Kalamos, a coastal holiday spot some 45 km (30 miles) northeast of the capital, and spread overnight to three more towns. A state of emergency was declared in the area.
On Zakynthos, an island popular with foreign tourists, several fires continued to burn for a fourth day and authorities declared a state of emergency. One minister said those fires had been set deliberately.
"It's arson according to an organised plan," Justice Minister Stavros Kontonis, who is the MP for Zakythnos, told state TV when asked to comment on the dozen fires burning on the island. "There is no doubt about it."
It is not clear what caused the fires, and no investigation has begun into possible arson. Late July and August often see a outbreaks of forest and brush fires in Greece, where high temperatures help create tinder-box conditions.
Near Athens, authorities ordered a precautionary evacuation of two summer camps and homes in the area and evacuated a monastery after flames reached its fence on Monday. Hundreds of Kalamos residents fled, heading to the beach to spend the night.
"It was a terrible mess, that's what it was. You could see homes on fire, people running, people desperate, it was chaos and the fire was very big," a resident told Reuters TV.
Andreas Theodorou, a local councillor, said the blaze had damaged "several dozens of homes."
"Help did not arrive fast enough, and if you don't stop a forest fire so large as soon as it breaks out, it's very hard to put it out," he said.
The fire brigade said rugged terrain dotted with small communities made the fire fighting difficult.
In the Peloponnese region of Ilia, the site of Greece's worst fires in 2007, which killed more than 70 people, blazes broke out in three areas on Monday, prompting the evacuation of a village.