EU firefighters drafted in to aid Portuguese efforts to quell forest fires
Comments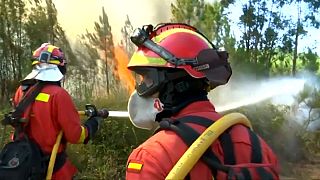 Over 2,000 firefighters are tackling ten major infernos across central and northern Portugal as authorities struggle to get the blazes under control.
Teams of firefighters were drafted in from across the EU on Sunday to assist their Portuguese counterparts after the government activated the European Civil Protection Protocol as a precautionary measure.
We're ready to drive away from the #fire#forest#portugal#castelobranco#bosbrandpic.twitter.com/yeH5TFKCsi

— Harmen van der Veer (@harmenvdveer) August 13, 2017
While #Portugal still on fire, there are some beauty in the sky.#meteor#perseids#nightsky#nightphotography#astrophotography#starspic.twitter.com/dBvQAVkRU9

— Luis Miguel (@luis8114fz) August 13, 2017
The fires, which continue to rage in the districts of Castelo Branco, Santarem, Vila Real, Coimbra, Leiria and Aveiro, were ignited by the exceptionally dry and hot weather that contributed to the country's worst forest fire disaster in living memory in June, when 64 people died trying to flee the flames in Pedrógão Grande.
More than 140,000 hectares of forest have burned this summer in Portugal, more than three times higher than the average over the last 10 years.