WATCH: Germany's farmers urge government to act as heatwave threatens billions in losses
Comments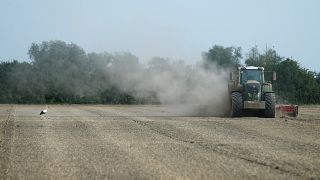 German officials will meet later today to discuss financial aid for farmers as record temperatures and prolonged droughts threaten billions in damages to crops and livestock.
Farmers are calling on the government to declare a state of emergency as Northern and Eastern regions struggle to cope with the dry spell.
Some of the worst affected areas haven't seen any rainfall since April and with today predicted to be the hottest day on record so far, conditions aren't looking to improve just yet.
Those farmers worst hit by the severe weather conditions have urged the government to act to compensate them as they say 30 percent of their annual harvest has been destroyed and losses are threatening their livelihood.
Euronews correspondent Jessica Saltz spent the day on a farm in the Trebbin district of Germany – one of the areas worst affected by droughts. In her report she spoke to local farmer Thomas Gaebert who manages around 4,000 hectares of farmland and worries that almost half of that could now be lost. He said: "Normally the entire field should be covered with small rape plants… but at this moment there are just some weeds, you don't see any or less rape here on this field."
Should this extreme weather continue, crops are not the only thing at risk. Mr Gaebert also worries that a lack of maize and grass will have a negative impact on his livestock as food supplies for cows are running seriously low. "At the moment no-one of my neighbors, farmers, would buy any cows because everyone has the same problem. I have neighbors who have reduced the number of their cows because they cannot sell it… they have to slaughter the cows. I hope that this is not an option we have to go to", he said.
The German Farmers Association will meet members of the Agricultural Ministry in Berlin later today to try to come up with some sort of action plan.