US left isolated at G20 meeting
Comments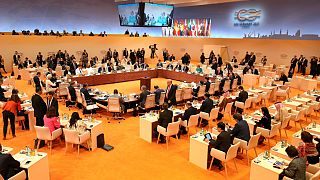 The US was left isolated at the end of the G20 meeting in Hamburg after all other member states reaffirmed their commitment to the Paris Climate Change deal.
In her closing address German Chancellor and host Angela Merkel insisted that she was not ignoring the fact that the US has withdrawn from the deal.
"I think it's very clear that unfortunately we could not reach consensus, but the differences were not papered over, the y were clearly stated," she said.
Merkel also said she didn't share the view of British Prime Minister Theresa May that Washington might decide to return to the climate agreement.
Russian President Vlaidmir Putin then commented on his first face to face talks with Donald Trump.
Who's in control? Body language expert shares Putin, Trump G20 observations with RT https://t.co/2cXUD3g6z6pic.twitter.com/UFnwAt2iPh

— Paris2015 (@paris_2015) July 8, 2017
It would be wrong if I reveal to you all the details of my talks with President Trump. He asked me a question – I replied, he asked follow up questions – I explained them. I think he was satisfied with my answers," he said.
Putin has repeatedly denied interfering in the US election in favour of Trump and earlier said that meeting Trump in reality was different from seeing him on television.