'Difficult' final day at the G20 in Hamburg
Comments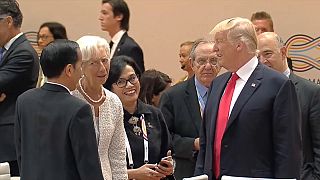 The G20 in Hamburg enters the final day of a "very difficult" summit, according to host German Chancellor Angela Merkel.
Officials are looking to reach deals on trade and climate.
Global Citizen responds to Chancellor Merkel's outline of #G20 priorities. https://t.co/WisVrZV0IWpic.twitter.com/J1VH8WEreE

— Global Citizen (@GlblCtzn) July 5, 2017
The main stumbling block is the decision of US President Donald Trump to pull out of the Paris Climate Agreement last month.
Trudeau looks to balance his relationships with Trump, Merkel at G20 https://t.co/KfVHe2vvuppic.twitter.com/l39SPLNCwt

— Ottawa Citizen (@OttawaCitizen) July 3, 2017
Trump also rejects free trade, though he supports business, he wants any deal to benefit and protect United States industry.
Merkel says she still expects the other 19 countries involved to stick to their commitments despite US opposition.