Portugal's deadliest fire extinguished
Comments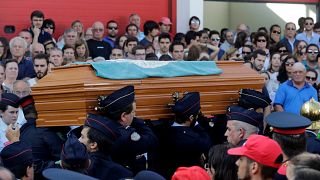 The deadliest forest fires in the history of Portugal has been extinguished.
It took five days to bring the fire in Portugal's central region under control because of high temperatures, bone-dry woodland and gusting winds. The effort was complicated further by the geography of the area.
At least 64 people have died and more than 200 have been injured in the fire.
Now begins the job of assessing the damage while looking for the cause of the fire.
But the head of Portugal's volunteer firefighters has said he suspected the fire had "criminal origins."
The Civil Protection Agency said about 1,200 firefighters and nine water-dropping aircraft had been fighting the deadly wildfire about 150 kilometres north of Lisbon.
Temperatures forecast to reach 43 degrees Celsius, gusting winds and bone-dry woodland were fuelling the blazes, according to fire fighters.
Firefighter's funeral is attended by Portugal's PM and President
Meanwhile Portugal is continuing to bury its dead from its worst forest fire in decades.
Forty-year-old firefighter Goncalo Correia was laid to rest on Wednesday at a ceremony attended by the country's president and prime minister.
He died from his burns after trying to help some of those who died attempting to escape on route N-236.
Correia is one of 64 people known to have lost their lives in a blaze which has ravaged central Portugal.
His colleagues are still trying to put the fire out which at one time was estimated to have covered 153 kilometres.
Latest reports say 95 percent of the blaze has been put out.
But questions are now being asked over how it all began.
The President of the League of Firefighters, Jaime Marta Soares suspects arson, contradicting an earlier account by police.
Originally it was thought dry thunderstorms sparked the blaze after a tree was found having been hit by lightning.
But Marta Soares claims the fire had already been burning for two hours before the storm started on Saturday and is calling for an investigation.