Inquiry ordered in to devastating London blaze amid claims it was preventable
Comments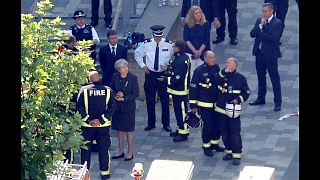 A full public inquiry has been ordered in to the blaze that engulfed a tower block in West London, killing at least 17 people.
Police fear some bodies may never be identified and warned the death toll could rise significantly.
Right now people want answers and that's why I am today ordering a full public inquiry into this disaster. pic.twitter.com/XTsH58zYqx

— Theresa May (@theresa_may) June 15, 2017
UK Prime Minister Theresa May visited the site before announcing the inquiry, amid mounting questions about whether the fire could have been preventable.
She said: "When I visited the scene, when I spoke to the emergency services, they told me the way this fire progressed, how it took hold of this building, was rapid, it was ferocious and it was unexpected.
"People deserve answers; the inquiry will give them."
However, she faced criticism for only meeting with emergency services staff and not with residents or survivors of the blaze.
The Mayor of London Sadiq Khan was heckled as he talked with locals, as anger at the scale of the disaster took hold.
A criminal investigation has been launched, following claims that recent renovations at the social housing block posed a major safety risk.
Meanwhile, friends and family continue their desperate search for missing residents.