Londoners help survivors of tower block blaze tragedy
Comments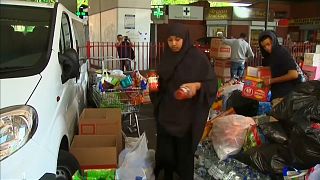 As smoke continued to waft out of the blackened shell of the Grenfell Tower on Thursday,
Volunteers worked to sort piles of shoes, clothes, duvets and other items.
Many survivors lost everything in the blaze received donations from charities and shocked Londoners.
"Overnight more people started arriving and at one point it was so fantastic," said volunteer Phupinder Singh. "Some Chinese people arrived with Chinese food, we had already had Indian. Then we had some Arabic people arriving, some Pakistani people arriving after closing their rosas and that. Then the icing on the cake; there was all the Afro-Caribbean community because they are local right. The Jewish community showed up with two cars, toothbrushes, toothpaste, stuff that you use you know. It was so fantastic."
"Loads of people were affected," said volunteer Tasnim Mohamed. "This is really sad. This is our city right? When something bad happens, people come together and this is like one of those times."
As many people waited for any news on their missing loved ones, the local authority thanked doners but said it could not take any more donations.