DR Congo: Ebola outbreak confirmed
Comments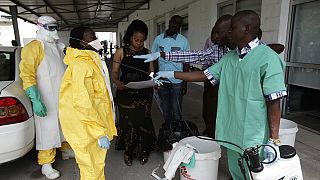 At least one person has died from the Ebola virus in the Democratic Republic of Congo according to the World Health Organisation (WHO) and the country's Health Ministry.
The last outbreak of the disease killed at least 11,300 people in West Africa.
Tests on nine people who came down with a hemorrhagic fever in the northeast of the country confirmed the presence of the virus. Three people have died from fever.
Other samples are still being tested, and six people remain hospitalised.
Latest update on #Ebola in the Democratic Republic of the Congo #DRChttps://t.co/7QGBEWSs2K#alert

—

WHO

(@WHO) May 12, 2017
This is the 8th outbreak to hit the Congo, that's more any other country. The deadly virus was first detected in its dense tropical forests in 1976.
"Our country must confront an outbreak of the Ebola virus that constitutes a public health crisis of international significance," the ministry said in a statement.
"Our country is full of people well-trained in this matter and our health professionals also helped contain similar epidemics in other countries," it added.
The GAVI global vaccine alliance said on Friday some 300,000 emergency doses of an Ebola vaccine developed by Merck could be available in case of a large-scale outbreak and that it stood ready to support the Congo government's efforts to bring the epidemic under control.
Under an agreement between GAVI and Merck, the developer of an Ebola vaccine known as rVSV-ZEBOV, it said up to 300,000 doses of the shot would be available in case of an outbreak.
"The WHO and others will determine if and when deployment of vaccine into this outbreak is warranted," it said in a statement.
New: update on Ebola in the Democratic Republic of the Congo #DRChttps://t.co/hpDLnkNqPEhttps://t.co/lwXHiazULP

— United Nations (@UN) May 12, 2017
"There are 300,000 doses of Ebola vaccine available if needed to stop this outbreak becoming a pandemic," said GAVI's chief executive Seth Berkley. "The vaccine has shown high efficacy in clinical trials and could play a vital role in protecting the most vulnerable."
If pertinent, ring vaccination – as used in the Phase 3 study in Guinea – is the recommended #Ebola vaccine delivery strategy in #DRC

—

WHO

(@WHO) May 12, 2017
(agencies)