Rome post office hit by "protest" bomb say police
Comments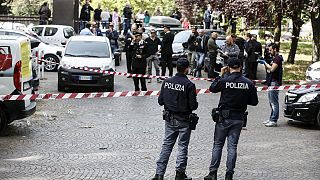 Italian police say a primitive bomb was responsible for an explosion that damaged a car in the car park of a major post office in Rome on Friday.
Investigators say the device was in plastic with two bottles of liquid inside, and equipped with a kitchen timer. The post office plays a role in the transfer of migrants.
"A small blast took place that was very limited. It hardly damaged a few cars, but it was clearly a deliberate act. That's what we know so far," said a fire officer.
Italian media reported two other devices had been found near parked cars in the vicinity.
"There were two booms, one small one and one stronger one. We were frightened and ran out of the café. We saw high flames and a thick dark cloud straight afterwards. We moved closer to look and saw that there was little damage," said one witness.
Traffic was not affected as the police were able to quickly isolate the area, and no-one was injured. Police have not ruled out the possibility of a mail bomb, but believe the device that did explode was intended as a protest and had little viability as a destructive weapon.