Merkel delighted with pro-EU Macron in the Elysée
Comments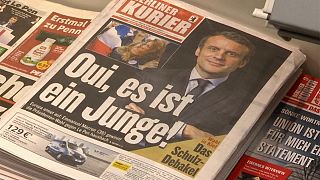 World leaders have been responding the election of Emmanuel Macron.
German Chancellor Angela Merkel hailed the result as a victory for European unity.
She sees Macron as a key ally in bolstering the EU with Berlin and Paris at the helm.
#Merkel says Germany & France will look to reinvigorate the EU with #Macron win https://t.co/i8cTHZ8dTtpic.twitter.com/SKDw4zn6qT

— Victoria Brownworth (@VABVOX) May 7, 2017
She gave her reaction to journalists in the German capital:"Emmanuel Macron carries the hopes of millions of people in France as well as people in Germany and across Europe. His election campaign was brave and pro-Europe. He stands for cosmopolitanism and social market economy and we know that Germany and France are bound together historically."
British Prime Minister Theresa May dragged the Macron victory into the UK election and she wants what he got:
"Now yesterday a new French president was elected. He was elected with a strong mandate which he can take into as a strong position in the negotiations. The UK, we need to ensure we've got an equally strong mandate and an equally strong negotiating position."
NEW Theresa May and Emmanuel Macron discuss Brexit after French presidential victory – https://t.co/4rQjzd26okpic.twitter.com/aJzAN1NxTW

— PoliticsHome (@politicshome) May 8, 2017
Relations between the Macron Elysée and Putin's Kremlin could be interesting after Macron accused Russia of backing a hacking attack on his campaign.
Macron also banned Russian media outlets from attending his rallies.
Still Putin wrote a letter of congratulations to the president elect.
In a rare non-confrontational tweet US President Donald Trump offered his best wishes to Macron, he tweeted:
Congratulations to Emmanuel Macron on his big win today as the next President of France. I look very much forward to working with him!

— Donald J. Trump (@realDonaldTrump) May 7, 2017