Suu Kyi lunches with Britain's Queen Elizabeth
Comments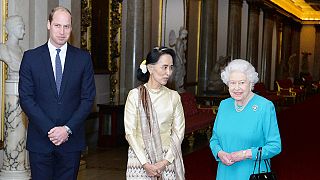 Myanmar's Aung San Suu Kyi has had a royal lunch in London with Queen Elizabeth and Prince William.
Suu Kyi, who serves as foreign minister while also being the de-facto head of Myanmar's civilian government, took power last year as part of a transition from military rule.
At home, she's denied ethnic cleansing in the Muslim-majority Rakhine region.
Attacks on border guard posts in October by a previously unknown insurgent group have ignited the biggest crisis for her so far.