Egyptians mark beginning of Spring with Sham el-Nessim celebrations
Comments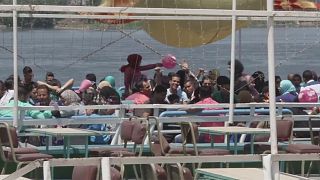 Egyptians have headed to parks, beaches and the Nile to celebrate Sham el-Nessim which marks the beginning of Spring.
Sham el-Nessim or 'smelling the breeze' is an annual tradition that dates back to the time of the Pharaohs and falls the day after Christians celebrate Easter.
Egyptians usually tuck into a dish of pickled mullet fish, marinated in vinegar for one year before being eaten.
The celebrations come as the country is under a state of emergency following recent attacks on churches which killed dozens of worshippers.