Poland welcomes arrival of NATO troops
Comments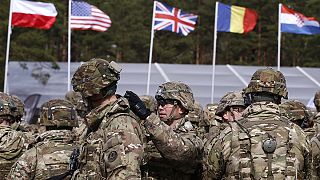 Poland's president, Andrzej Duda has welcomed the arrival of NATO troops in the north east of the country.
At a ceremony for the multinational battalion in Orzysz, he said their presence would help prevent attacks on Poland from being repeated.
"It's not an exaggeration to say that many Polish generations have been waiting for this moment since the end of World War II. They dreamed about it and they made sacrifices, beginning with soldiers who fought and died for an independent Polish state against the Soviet occupation," he said.
The US is leading the forces, backed by UK and Romanian troops. Ahead of the ceremony, Polish government sources said Warsaw hopes to welcome US President Donald Trump for a short visit in July.
On Wednesday, he did an about-turn on his camapign-trail criticism of the 28-member organisation, labelling it "no longer obsolete."