Serbia PM Vucic wins presidential poll by a landslide
Comments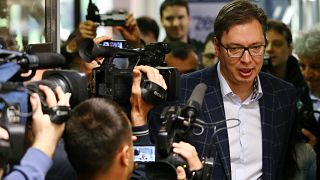 Conservative Prime Minister Aleksandar Vucic won Serbia's presidential election by a landslide on Sunday, confirming his domination of the Balkan country balanced between the West and Russia.
With more than 55 percent of the vote according to a projection, he avoids a run-off for the largely ceremonial post which he is now poised to take on at the end of May.
He is expected to retain de facto power through his control of Serbia's ruling Progressive Party.
"For me it is important that this election demonstrated that a large majority of Serbian citizens favour the continuation of the European path while maintaining close ties with China and Russia," Vucic told cheering supporters.
The result is a political humiliation for the opposition, not least Vucic's nearest rival, centrist and former rights advocate Sasa Jankovic, trailing on just 16.2 percent, according to the projection by the Ipsos polling group.
with Reuters