Brazil's Temer seeks to calm fears over meat corruption scandal
Comments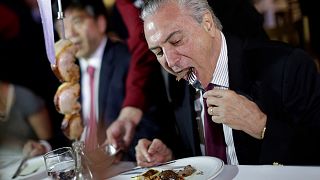 Brazil's president has played down a corruption scandal that's tarnished its valuable meat industry.
Investigators are looking into claims that companies paid bribes to conceal unhygienic conditions at meatpacking plants.
Michel Temer sought to dispel fears of systematic flaws in the industry.
He took a group of diplomats from several continents to a steakhouse and promised to get tough.
"As of tomorrow (Monday), the Agriculture Ministry will report which countries received these products, what the products were and their origin, company by company," he said.
The authorities say there's no sanitary risk, despite allegations by police that some producers had sold rotten and tampered meat products.
The president says Friday's raids on premises were isolated. Brazil's farmers' association has called for those caught breaking the law to be swiftly and severely punished.
The EU is seeking details from the Brazilian government over risks to imports.
Brazil is the world's largest exporter of beef and other several meat products.