Suicide blasts in Damascus on six year Syria conflict anniversary
Comments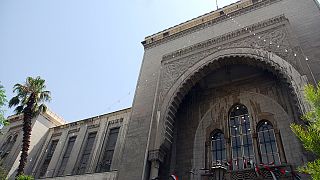 Six years to the day since the start of Syria's conflict, twin suicide attacks brought terror to Damascus on Wednesday.
More than 30 people are dead and over 100 injured.
By far the worst bloodshed was in the first attack at the main court complex in central Damascus near the Old City. Justice Minister Najem al-Ahmad told reporters the initial death toll was 31, mostly civilians.
The courthouse bomber set off his explosive device at 1:20 p.m. local time as the police tried to search him and stop him from entering the building, state television cited the Damascus police chief as saying.
"The attack came as a retaliation against the latest victories of the Syrian army and the political victories in Geneva and Astana," Ahmad said, referring to recent peace talks in Switzerland and Kazakhstan.
Less than two hours later, a restaurant west of the Palace of Justice was targeted in the al-Rabweh area, causing several casualties, according to state media.
It comes just days after scores of mainly Iraqi Shi'ite pilgrims were killed in another double suicide attack in the Syrian capital, claimed by an alliance of jihadist groups.
"Millions of Syrians are living in daily fear of the war and the inhumanity it has created" - UN @RefugeesChief on 6 years of war in Syria. pic.twitter.com/nFpbALcz0A

— UN Refugee Agency (@Refugees) 15 mars 2017
with Reuters