Sochi shopkeeper pardoned over "military texts"
Comments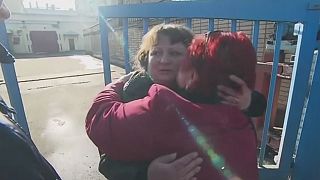 A shopkeeper from Sochi who was convicted of treason last year has been pardoned and and freed from a Moscow prison.
Oksana Sevastidi, a 46-year old from the Black Sea resort, was sentenced to seven years in a penal colony for sending two text messages to a friend in Georgia in 2008. They refered to Russian military movements near the breakaway republic of Abkhazia.
She sent the texts to a man she barely knew just a few months before Russia and Georgia fought a brief war over Abkhazia and another breakaway region.
Then man has not been located since.
Sevastidi was pardoned by Russian President Vladimir Putin last week on humanitarian grounds.