US launches criminal probe into CIA leak
Comments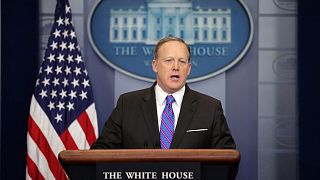 A federal criminal investigation is being opened into the public release of documents said to detail alleged CIA hacking tools.
The FBI and CIA are believed to be co-ordinating the inquiry after WikiLeaks published thousands of files.
White House spokesman Sean Spicer said the Trump administration will be getting tough:
"Make no mistake about it, I think the president has talked before, that anybody who leaked classified information will be held to the highest degree of law. We will go after people who leak classified information. we'll prosecute them to the full extent of the law. This is playing with our nation's national security is not something that should be taken lightly under this administration."
There is speculation that CIA contractors based either in the US or abroad are the likely source of the breach, mainly due to the difficulty of employing permanent staff because of budget cuts. Contractors have been behind leaks in recent years, most notably Edward Snowden and Harold Thomas Martin, both employed by consulting firm Booz Allen Hamilton while working for the National Security Agency.
Imagine a world where the actual CIA spends its time figuring out how to spy on you through your TV. That's today. https://t.co/dQHBrsyIoI

— Edward Snowden (@Snowden) March 7, 2017
The CIA has not confirmed if the documents which claim its hackers have found away to listen in on smartphone and smart TV microphones, are authentic.
I don't regret keeping tape over my computer camera but it's going to be weird when I put earmuffs over the rest of our home electronics.

— Amanda Carpenter (@amandacarpenter) March 8, 2017
Several of the tech firms whose products have been allegedly compromised by the CIA have gived their reactions.
Apple said it had already addressed some of the vulnerabilities mentioned in the documents.
Google's director of information security and privacy, Heather Adkins, said in a statement: "As we've reviewed the documents, we're confident that security updates and protections in both Chrome and Android already shield users from many of these alleged vulnerabilities."
Samsung – whose F8000 series of televisions was reportedly compromised – said that "protecting consumers' privacy and the security of our devices is a top priority".
Why is this dangerous? Because until closed, any hacker can use the security hole the CIA left open to break into any iPhone in the world. https://t.co/xK0aILAdFI

— Edward Snowden (@Snowden) March 7, 2017