Spotlight on Germany in Wikileaks CIA spying revelations
Comments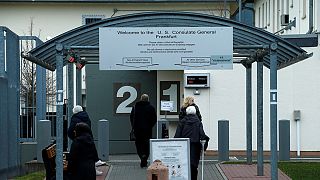 Not for the first time, Germany finds itself at the centre of a spying scandal involving the United States.
This time, all eyes are on the US consulate in Frankfurt. It is being used as a covert base for CIA hacking operations covering Europe, the Middle East and Africa, according to the whistleblower website Wikileaks.
The German government says it takes the publication of the CIA documents seriously – as does Green Party MP Konstantin von Notz, who is already part of a German parliamentary inquiry into a previous spying scandal involving the US National Security Agency (NSA).
"The matter has to be investigated immediately," von Notz said.
"These are all very significant criminal activities."
.@WikiLeaks' #Vault7 documents purportedly show the global reach of the CIA's cyberespionage capabalities pic.twitter.com/38Ve9uWfTS

— dwnews (@dwnews) 8 mars 2017
Germany's chief federal prosecutor will carefully examine the trove of new documents released by Wikileaks related to the CIA, and will launch an investigation if it sees concrete indications of wrongdoing, a spokesman said.
In 2013, German media reported claims that US intelligence agencies used the American embassy in Berlin as a listening station.
Revelations by former NSA contractor Edward Snowden about wide-ranging espionage in Germany by the US, included allegations that it bugged Chancellor Angela Merkel's mobile phone.