North Korea test fires four more missiles
Comments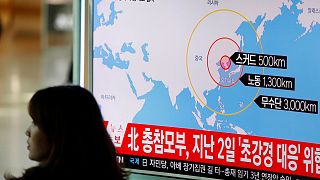 North Korea has fired four more ballistic missiles, three of which fell into the sea near Japan.
The launch once again contravenes UN resolutions on testing of missiles or nuclear technology.
The four were launched from a missile base near the North's border with China and flew for about 1,000km
It's not clear what type were fired;
Japan's Prime Miniister Shinzo Abe has condemned the test.
"North Korea fired four ballistic missiles today which fell near our Exclusive Economic Zone or EEZ. Japan will collect and analyse information regarding this issue. Japan also lodged strong protest against North Korea."
Seoul and Washington launched annual joint military exercises last week that regularly infuriate Pyongyang, which condemns them as provocative rehearsals for invasion.
It recently claimed to have successfully test-fired a new kind of ballistic missile in a launch supervised by leader Kim Jong-un.